Are you trying to lose weight, but can't seem to stay on track at work? Don't worry, we've got you. Try our 4 top healthy meal prep ideas for tasty food that promotes and supports your weight loss.  
<product carousel>
Cowboy Caviar
Famed on TikTok as a nourishing and delicious way to get your fiber intake, Cowboy Caviar is the latest foodie trend that we know you're going to love. Perfect to meal prep, this salad is super easy to prepare, and it tastes pretty good too!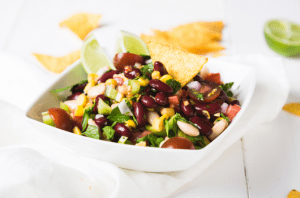 What you need: 
½ cup canned or frozen sweetcorn

 

x1 can black beans

 

x1 can black eyed peas

 

2 large tomatoes, diced

 

x1 onion, x2 bell peppers, ¼ cup jalapenos, diced

 

Salt, pepper, fresh cilantro

 
Method: 
Prepare all your ingredients and tip into a large bowl.

 

Season with a small glug of olive oil, salt & pepper or your favorite salad dressing.

 

Mix and enjoy alone or with low calorie chips. 

 
Pesto Pasta Salad
Get the taste of Italy right from your office desk! Great for those who struggle to feel full after simply eating salads, this pasta salad is packed full of flavor and is the best way to level up your lunches.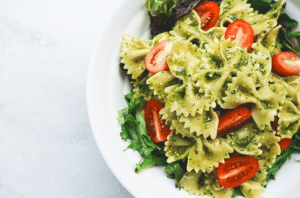 What you need: 
Your favorite pesto- homemade or jarred is fine.

 

1 ½ cups of whole-wheat pasta

 

A handful of cherry tomatoes, chopped

 

1 cup Rocket salad leaves 

 

¼ cup Black olives

 

¼ Red bell pepper, diced

 

Fresh mozzarella 

 

Fresh basil
Method: 
Cook your pasta, drain and rinse with cold water.

 

Fill a container with the pasta and top with the pesto and other ingredients.

 

Tear over some slices of mozzarella and top with olive oil, basil and black pepper.

 

Close the lid of the container, shake and refrigerate until you're ready to enjoy!

 
 Chicken Burrito Bowls
Your favorite lunch just got a new makeover- and it can even help you lose weight! Switching out heavy cheese and bread for this light and low-calorie bowl is the perfect way to eat what you love while losing weight.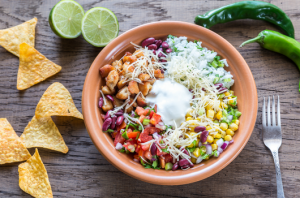 Ingredients: 
½ cup brown rice

 

Diced bell peppers, onion, avocado (¼ cup each)

 

x1 can of Sweetcorn 

 

Cooked chicken, chopped (x1 breast)

 

x1 can of Pinto beans 

 

Optional: Salsa, Cilantro

 
Method: 
Wash and boil your rice until cooked.

 

Pour the cooked rice into a bowl and top with the beans, peppers, corn, and onion. 

 

Mix until combined, then top with the cooked chicken and avocado. 

 

Top with salsa and cilantro (optional). 

 
Med Veg & Salmon
Everyone knows that the Mediterranean diet is one of the healthiest around- think about it, it's full of veg, grains and protein. That's why this meal prep dish is one of our all-time faves for weight loss.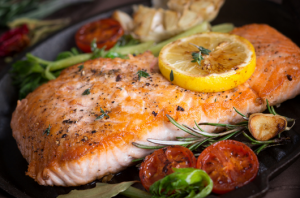 Ingredients: 
Zucchini x1

 

Red Onion x1

 

Bell peppers x2

 

¼ cup olives

 

Salmon fillet (x1)

 

1

½ cup

couscous

 
Method: 
Roughly chop the veg and lay them on a roasting tray. Top the veggies with the salmon, a splash of olive oil, and any seasoning of your choice. 

 

Bake for around 20-25 minutes at 400F.

 

While the veg and salmon are cooking, at some hot veg stock to your couscous until covered and leave for around 5-10 minutes.

 

Once your veg and salmon are cooked, fluff up your couscous and place in a container. 

 
We hope we've given you plenty of ideas for healthy meal prep to support your weight loss this summer. Remember, we LOVE to see what you create at home so be sure to tag us on TikTok or Instagram with your tasty weight loss recipes! 
Don't have time to get cooking in the kitchen? Don't worry, we've got plenty of meal replacements you can enjoy instead. Made with 26 vitamins & minerals, high in protein and Slendesta for 3+ hours hunger blocking, our shakes are a must-have for quick and effective weight loss.
Hungry for more? Check out our other yummy recipes!