How can you encourage your family to exercise together?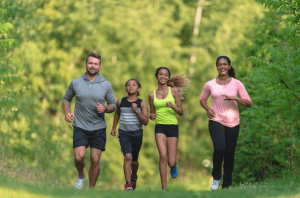 While summer already seems like a distant memory, there's no reason to be taking a step back from your health and fitness. Now the kids are back at school, you may be missing them more than ever. We know it can be tricky to schedule quality family time while keeping on track with your fitness goals, that's why we're combining the two with our family exercise ideas! 
How can families exercise together?
1. Build an at-home assault course
Who said staying fit had to be boring? Bring the fun back into fitness with an at-home assault course, perfect for all the family to enjoy.  
Simply use household items, cones or the children's toys to mark out different things to run besides, jump over and more.  
2. Go on a walk or hike
Walking is the BEST exercise because it's low maintenance and doesn't require any prior fitness experience. If you and your family are nervous about entering the world of fitness, a short walk or hike is the perfect place to start.  
It doesn't matter if you don't live in a particularly scenic or rural area, you can enjoy a walk with any backdrop.  
A great way to keep the kids engaged while walking is to ask them to point out landmarks, nature or street signs while you walk.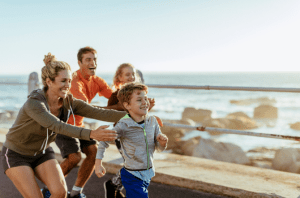 3. Have a family games tournament
A full day of sports and fun is a great way to get fit with the family!  
Choose to split into teams for a game of tug and war or race against each other in your back yard, this is the ultimate way to make fitness fun! 
4. Go swimming
for family exercise
Whether it's at your local pool, YMCA or in the natural water in your area, swimming is a great activity for all the family to enjoy together.  
Teaching the kids swimming is such a valuable life lesson and it can help you get fit too. Look up all the local areas where you can swim, pack your trunks and swimming costumes and away you go.  
5. Learn a new sport together
We know you can't play competitively as a family, but that doesn't mean you can't try a new sport together!
Learning a new sport as a family is a great way to bring everyone together and help increase everyone's fitness. 
Hungry for more? Check out our other blogs:
Ready to start your exante journey?