What does the green look like your diet? Green vegetables are an important element of a healthy and balanced diet. Not only are they all around healthy, they also help promote weight loss.
You might be thinking to yourself, "If I have to eat one more piece of broccoli I'm going to quit my diet!"
I get it. Eating enough greens can be difficult and not always the tastiest.
But don't give up just yet. I've got a list of fat-killing reasons why veggies should be your new best friend, a few new recipes to add some green to your next meal, plus a great new way for you to get your greens in.
Say No to Hunger, Say Yes to Veggies
One of the best things about vegetables is that they are low in calories. Pound for pound, you get more bang for your calorie buck with veggies than any other food. You've probably heard that some foods like nuts, avocados, and salmon have "healthy fats," and while this is true, there is such thing as too much of a good thing.
Healthy fats and lean protein are still very dense in calories and they're definitely not foods that you want to munch on mindlessly. Let's look at almonds for example. They're full of healthy fats and some protein too, but one serving of almonds (an ounce or about 1/4 cup) is 162 calories.
Now, let's compare that to a munchable green vegetable like celery. An entire cup of chopped celery only has 16 calories!
If snacking on munchy, crunchy foods is your downfall, try keeping crispy, crunchy green vegetables on hand instead. You'll be able to get the same cravings relief of crunching and chewing without all the fat, carbs, and calories.
Not only are they great for snacking on, they keep you full too. Vegetables are a fantastic way to add more volume and substance to your meal. I believe you can eat as many as you'd like!
With such a vast selection available you'll never have to feel hungry after a meal ever again. Night-time snacking can be cut down to size when you pile vegetables onto your plate.
When it comes to veggies, the sky's the limit. Don't think that steamed broccoli is your only vegetable option. Check out the recipe for roasted Brussels sprouts at the bottom of this post for a flavorful side dish option.
Fiber is Fat's Mortal Enemy
If you didn't know, green vegetables are full of fiber and fiber is good for weight loss. Studies have shown that high fiber diets support a healthy weight as well as weight loss.
In one study, 240 obese men and women were split into two groups. One group had to follow the dietary guidelines outlined by the American Heart Association. "In addition to limiting sugar, saturated fat, and other nutrients, these participants were encouraged to eat more fruits, vegetables, whole grains, and fiber, choose lean animal proteins and plant proteins, and enjoy fish at least twice weekly."
The other group was given a very simple goal of eating at least 30 grams of fiber each day.
The result? Shockingly similar! The participants in the first group lost an average of 6 pounds in 6 weeks. Participants in the second group lost an average of 5 pounds in 6 weeks. The difference in their results was insignificant even though one group had to abide by a much stricter diet and set of standards.
The moral of the story is that fiber is good for weight loss and green vegetables have a lot of it. All fiber is good, but not all fiber is created equal. Soluble fiber is the type of fiber that is most strongly connected to weight loss.
But don't run out and buy a lifetime supply of fiber supplements thinking that will help you reach your weight loss goal. Fiber supplements don't give you all the same benefits as high fiber foods. In fact, researchers still aren't sure if you can get the same benefits from a particular nutrient if you isolate it, which is why you should stick to getting your fiber from proven sources like green vegetables.
Nutrient Bombs for the Win
Being healthy is about more than reaching a healthy weight. Being healthy is about eating a healthy diet that will help you feel good inside and out. When it comes to maintaining a healthy and nutritious diet, green vegetables are a must-have.
They contain a rich supply of vitamins and minerals to keep you healthy from head to toe. Vitamins and minerals are needed to keep your body running at peak capacity which will not only keep you feeling good, it will help you lose weight.
For example, getting the right amount of iodine is important for proper thyroid function. Your thyroid plays a big role in weight loss and weight gain. When your thyroid is under functioning (because it's not getting the right nutrition), there is the possibility that you will gain weight or have a hard time losing weight. Seaweed is rich in iodine, which just goes to show how expanding your veggie repertoire is great for your health and weight.
In addition to certain veggies being great for specific vitamins/minerals, there are also groups of vegetables that are generally rich in the same vitamins and minerals. For example, Dark leafy greens like:
Spinach
Kale
Swiss chard
Collard greens
Mustard greens
Turnip greens
Cabbage
Brussels sprouts
Romaine lettuce
Arugula
These are all high in fiber and vitamin K. Vitamin K is essential for proper blood clotting which is a very important part of healing an injury.
Green Recipe Round Up
It might seem impossible to incorporate more green vegetables into your diet in a delicious and interesting way. That's why we've got six tasty and unique recipes to please your palette all while turning up the green factor!
 Zoodles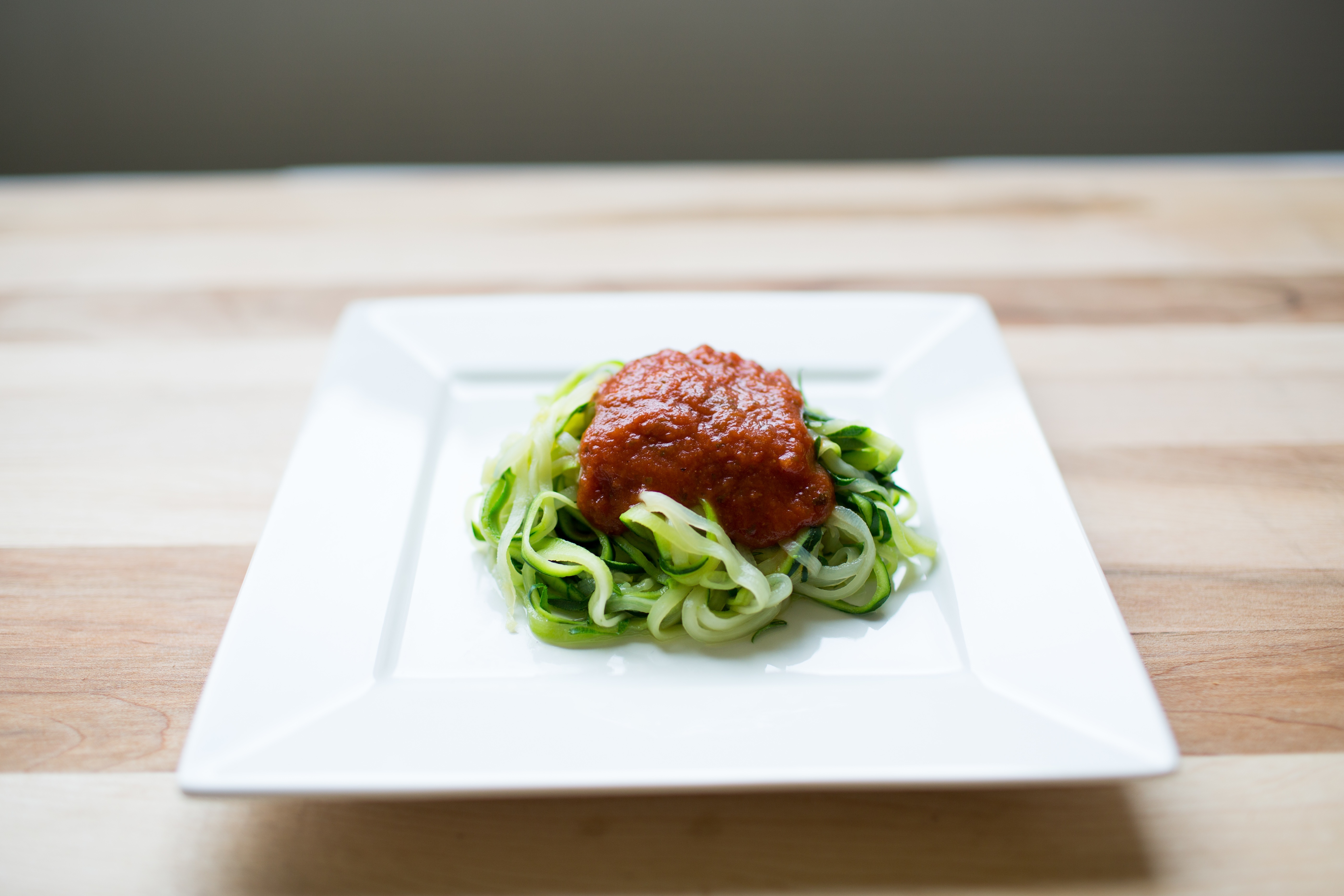 Ingredients:
1-2 medium Zucchini
1 serving of your favorite marinara sauce
Directions:
1. Using a spiralizer, shred 1-2 zucchini to make noodles.
2. Top with favorite marinara sauce.
Kale Chips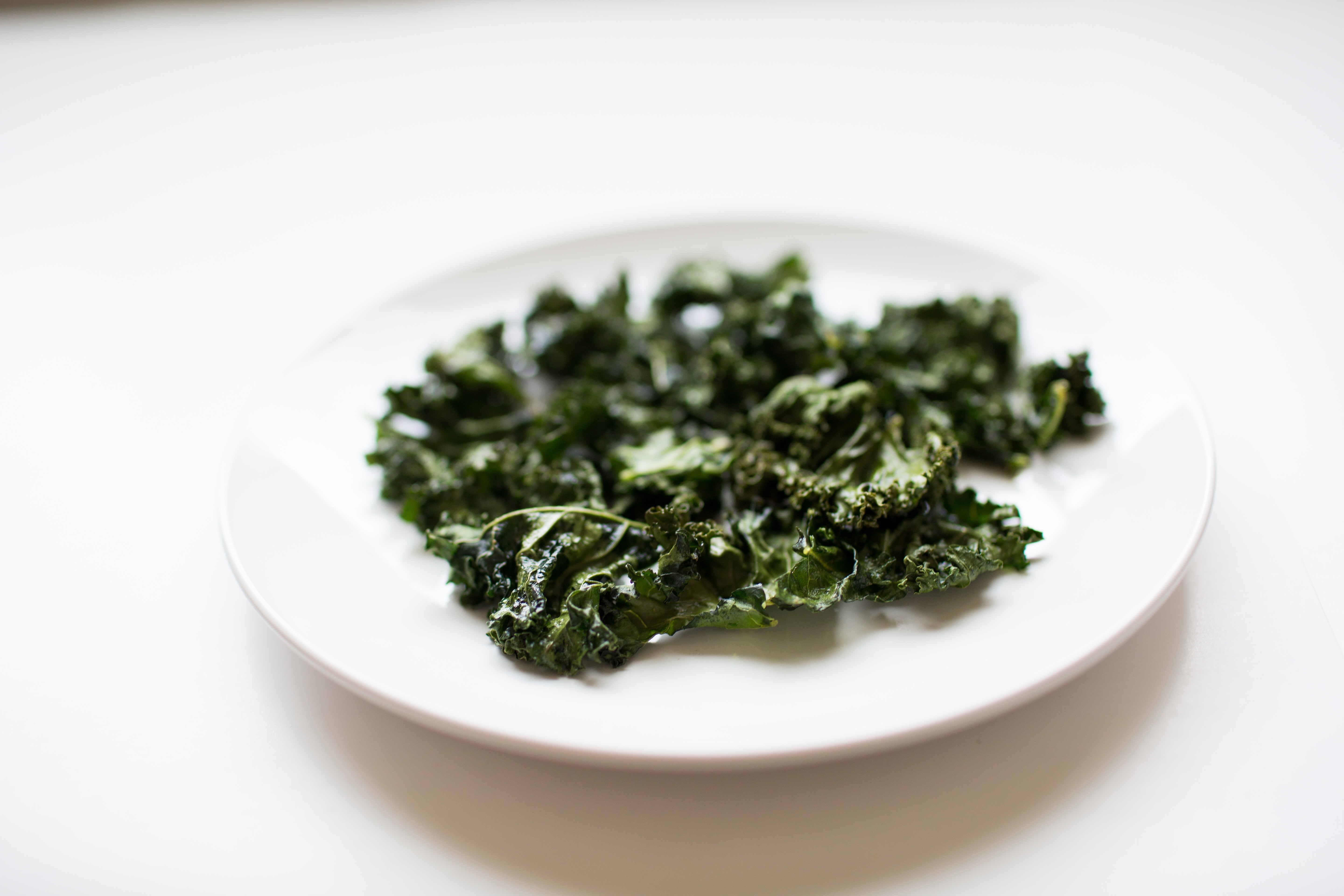 Ingredients:
1 bunch of kale
Directions:
1. Preheat oven to 350 degrees.
2. Tear clean kale into bite-sized pieces.
3. Using a paper towel, pat them dry as best as you can.
4. Drizzle with olive oil and season with sea salt.
5. Bake until the edges are brown. About 10-15 min. Enjoy!
Green Herb Hummus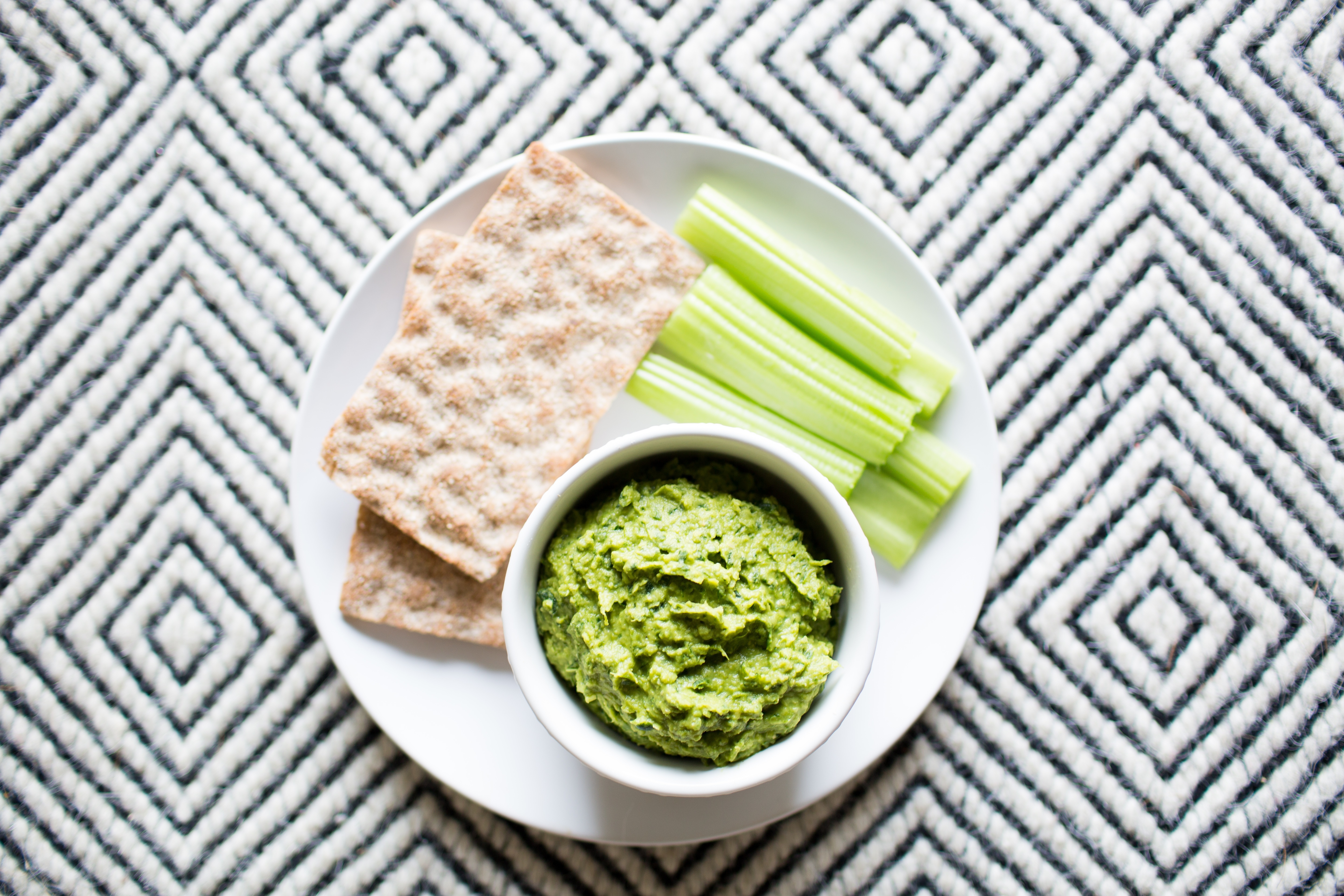 Ingredients:
1 15 ounce can chickpeas, rinsed and drained
1 cup baby spinach leaves
1/4 cup Italian flat leaf parsley leaves, stems removed
1/4 cup cilantro leaves, stems removed
1/4 cup fresh lemon juice
2 tsp. garlic, minced
1 tbsp. tahini (optional)
1/4 cup extra virgin olive oil. Salt and pepper, to taste.
Directions:
1. Place the chickpeas, spinach, parsley, cilantro, lemon juice, garlic,
and tahini in the bowl of a food processor and process until roughly
chopped and somewhat combined.
2. With the processor on low, pour the olive oil in through the feed tube and process until smooth. Taste, and add salt and pepper as necessary, processing once more.
3. Serve with wasa crackers, veggie sticks, or as a spread on wraps or sandwiches. Enjoy!
Pea Soup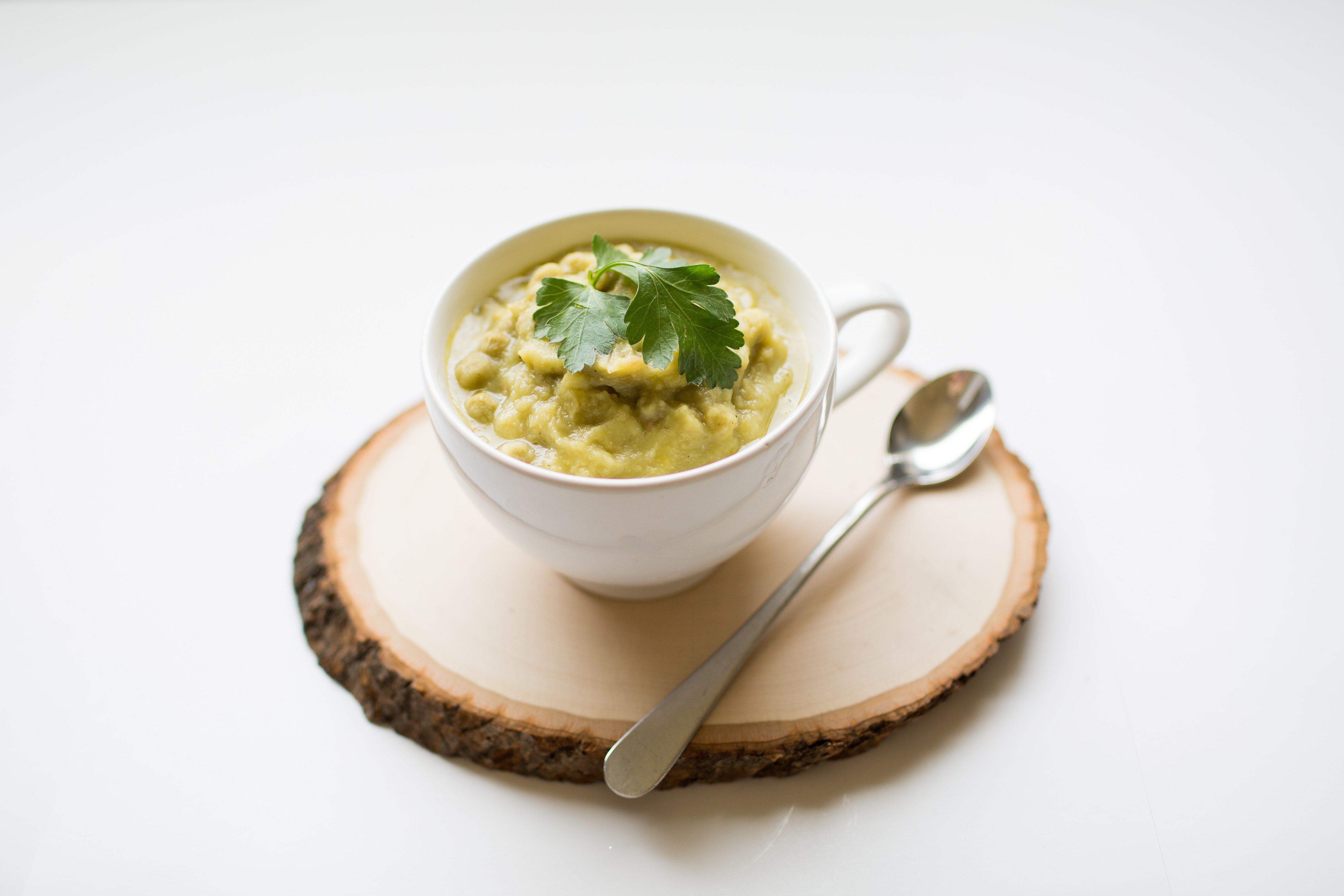 Ingredients:
4 large carrots, sliced
4 stalks celery, sliced
1 onion, chopped
1 tbsp. olive oil
2 tsp. dried thyme
1 tbsp. garlic powder
1 tbsp. onion powder
8 or 12 cups chicken stock (8 for thicker, more for runnier soup)
3 cups dry split peas
Slow Cooker Directions:
1. Saute your onions in the olive oil until they are translucent.
2. Put all ingredients in a slow cooker and turn on low.
3. Let cook for 8-10 hours.
Stove Top Directions:
1. Saute the onions, carrots and celery in the olive oil in a large soup pot until the onions are translucent.
2. Combine all remaining ingredients in the soup pot and bring to a boil.
3. Reduce heat to a slow boil and allow to cook until peas are soft. Stir frequently to void burning at the bottom of the pot.
Roasted Balsamic Brussels Sprouts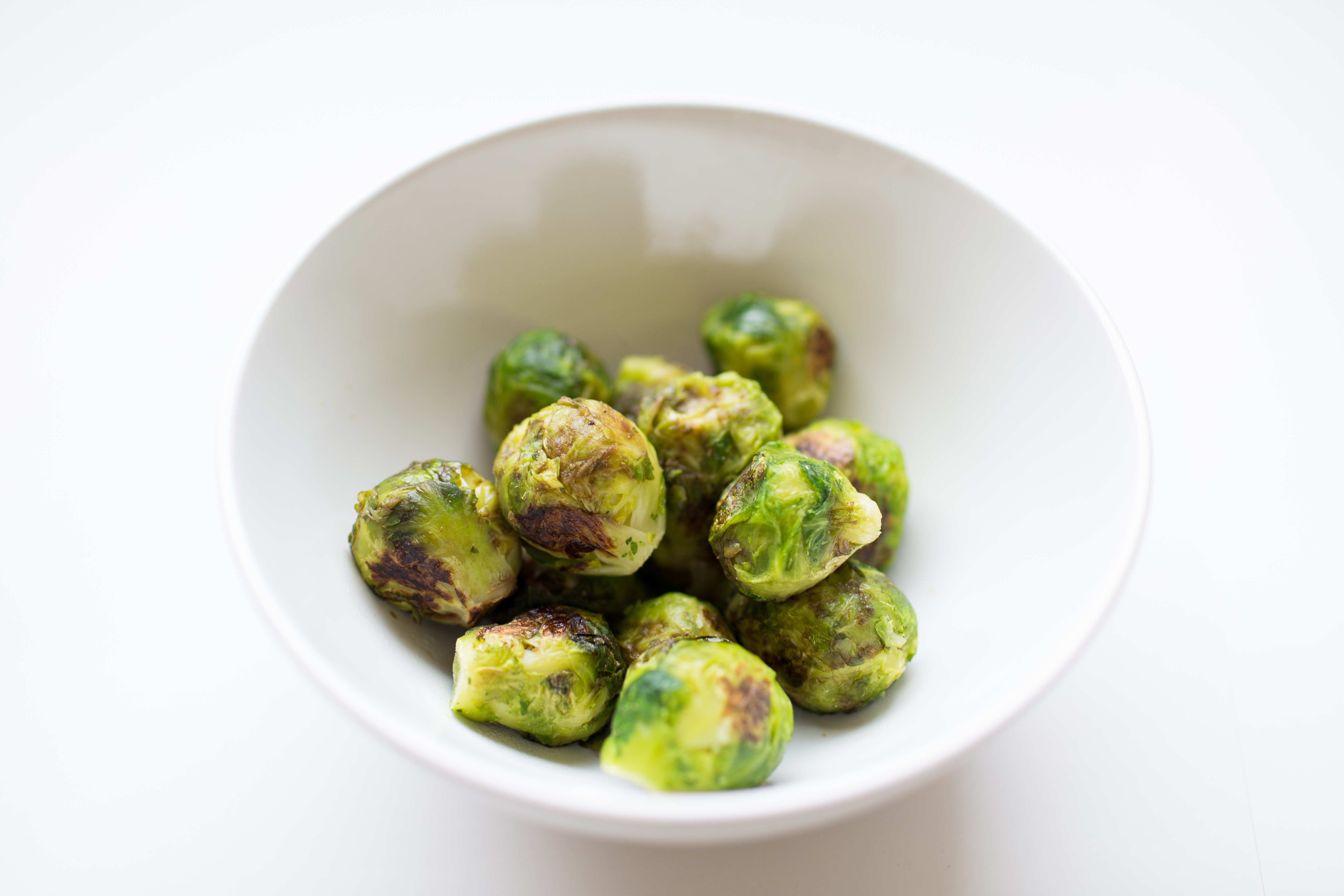 Ingredients:
1.5 lbs. fresh brussels sprouts
3 tbsp. olive oil, plus more for serving
1 tsp. sea salt, plus more for serving
Balsamic vinegar, drizzled
Directions:
1. Wash and dry brussels sprouts* then add to a bowl. Cut any that are larger than an inch in diameter in half (keeping the small tender ones whole).
2. Toss brussels sprouts with olive oil, salt and garlic then arrange in a single layer in a large baking pan (or two smaller ones. Bake at 400 degrees for 18-20 minutes. Watch them closely. You want a nice roasted charred, but not burned.
3. Serve with drizzled balsamic vinegar.