Introducing the NEW Detox Bundle!
Got a summer vacation you need prep for? Perhaps you're feeling a little sluggish and fancy detoxing your body? Whatever your reasons for giving your body a break, our Detox Bundle is set to be your go-to this summer. 
Yep, we get it. Summer is here and, if you're anything like us, you may be feeling a little nervous about getting in your first bikini or swim shorts post-Covid. Don't worry, we've got you covered. Remember, the summer months are all about enjoying the sunshine and being proud of the body you have- but it's only human to wanna feel your absolute best.  
Whether you use it to support your pre-holiday weight loss, or just to give yourself a glow from the inside out. Our Detox Bundle is here to be your ultimate companion this summer! 
What is a detox?
Detox. It's a word that has been prevalent in the diet, nutrition, and food industry for years, but what does it really mean?  
Put simply, a detox works by abstaining from toxins in our everyday lives and diets (1). 
Giving your body a detox can be beneficial in a number of ways, including:  
Reducing bloating

 

Supporting weight loss

 

Helping with cellulite

 

Reducing fatigue

 

Helping to support the immune system

(1)

 
How we'll be detoxing this summer…
To do our 7 Day Detox, you should replace 1-2 meals a day with our JUICED shake, take 2 capsules of our Immune Support Supplements with food daily, and use exante BOOST daily to curb cravings and provide you with the energy you need to stay on track.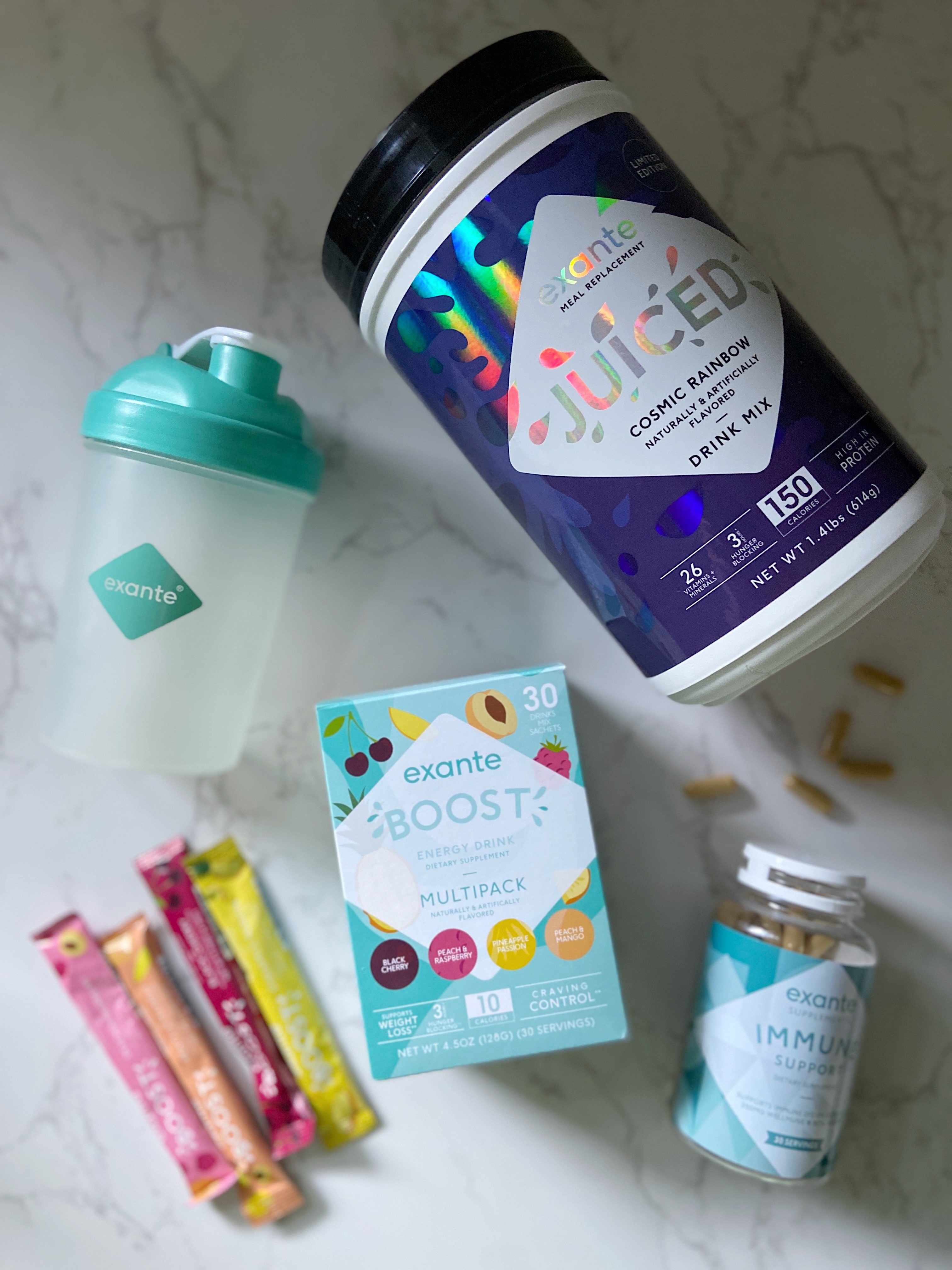 In each box, you'll receive: 
Cosmic Rainbow JUICED (14 serving tub)
BOOST Variety Box of 30
x1 Immune Support Supplements
exante shaker
How does the Detox Bundle work?
 The exante Detox Bundle will help to detoxify your body thanks to the amazing ingredients in each of our products. 
Cosmic Rainbow JUICED
JUICED is formulated using a unique blend of Slendesta and Digezyme for 3+ hours of hunger control- it's just 150 calories which makes it perfect for an on-the-go BOOST!
exante BOOST is an alternative to sugary sodas and energy drinks. With only 10 calories and 0g of sugar, it's a guilt-free energy boost. The blend includes our key ingredient Slendesta to keep you full for 3 hours+, Green Tea to aid in fat reduction*, Caffeine and Raspberry Ketones for fat burning power*, and a B Vitamin Blend which supports metabolic function* & boosts mood* and Green Coffee Bean for a weight reducing effect* 
Immune Support
exante Immune Support Blend has been formulated to contain a unique blend of ingredients. Our capsules are packed with clinically researched ingredients, including Wellmune® and a proprietary strain of yeast beta glucan which helps to support your immune system all year round to ensure you're always on track for your goals.