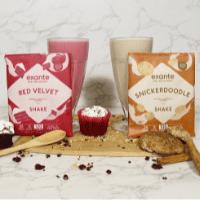 What happens when two NEW flavors fall in love at the same time? A batch made in heaven! That's right our Meal Replacement Shakes just got luxurious with our NEW heavenly dessert-inspired Red Velvet and Snickerdoodle flavors. Why waste your calories on the real thing when you can have your favorite baked good in shake form? Curb your sweet cravings with our high protein, multivitamin, low calorie & not to mention super delicious Meal Replacement  Shakes! They are formulated with a unique blend of Slendesta and Digezyme to keep you fuller for longer – 3 + hours to be exact. The shake combo is the perfect way to stay top of your weight loss goals and help you feel good this Summer.  
It's a piece of cake!
Our NEW Limited Edition Red Velvet flavor tastes just like the real thing! Do you find yourself treating yourself to a slice of cake when you're out socializing or out for a coffee break with friends and family? We've got you, have the treat without the cheat – our rich and indulgent Meal Replacement Shakes are perfect for on-the-go to enjoy anytime, anywhere, to help you keep on track.