If you're trying to lose weight, chances are you're cutting back your daily calories. One quick way most people do this is to stop snacking. But, as a qualified nutritionist and personal trainer, I'm here to tell you TO SNACK! Healthy snacks are your friend!
Yes, you heard that right. To lose weight and burn fat, you need to snack!
You need to think about eating five times a day: breakfast, snack, lunch, snack, and dinner. It helps to keep your energy levels stable and actually stops you from overeating. Often we're so hungry by meal times that we overestimate how much food we need and we end up eating more than our daily calories in one big meal.
So, how do we snack to lose weight? We chose healthy snacks.
10 Healthy Snacks For Weight Loss
Healthy snacks keep you full in between meals, are low in calories, and give you an energy boost. Here are my top 10, nutritionally-approved snack ideas!
1. Oatmeal
It's not just for breakfast anymore! Oatmeal is low in calories and high in fiber, iron, and magnesium, so it's a perfectly filling snack for any time of day. Outmeal is delicious, quick and easy to make and has 15g of protein per pack!
2. Tuna Spinach Wrap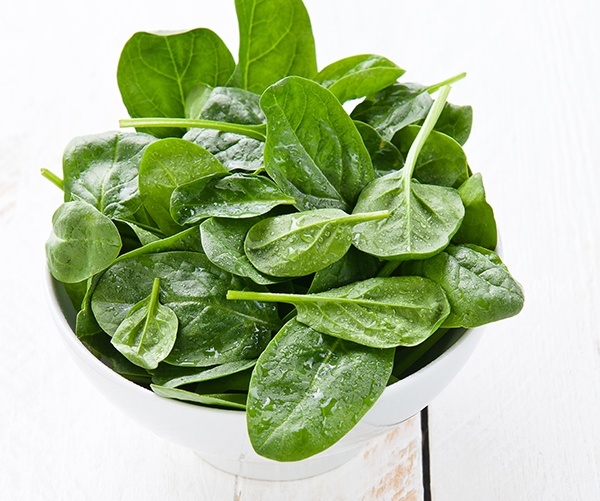 Tuna in water is fat-free and a good source of protein, B vitamins and omega-3s. Drain it and drizzle it with a small amount of olive oil, then wrap it in a few large spinach leaves for an extra antioxidant boost.
3. Meal Replacement Bar
Yes, you probably already thought of this! Having a tasty, portable snack bar can be just what you need to help you crush your cravings and also satisfy your sweet tooth.
Bars are a purse- or pocket-friendly snack and loaded with fiber and 10 grams of protein, yet much less sugar than most snack bars. 
4. A Fiber-Rich Fruit or Vegetable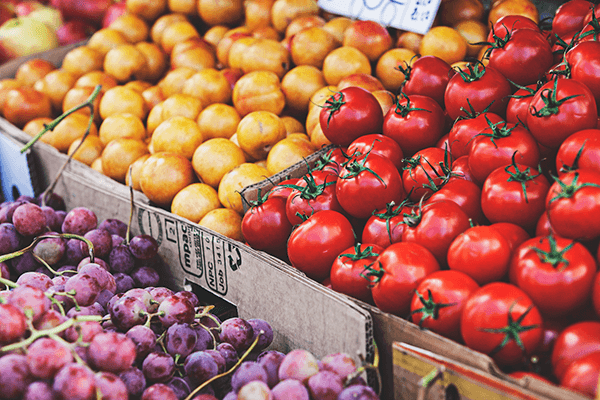 Fiber helps with digestion and fills you up. Which fruits and vegetables have the highest fiber content? Carrots and bell pepper sticks are some of the easiest high-fiber veggies to tote around, while apples, bananas, oranges, pears and berries are some of the best fiber-filled fruit options.
5. Homemade Trail Mix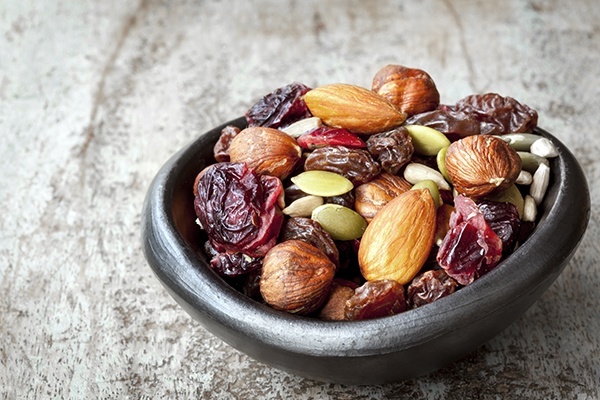 A mix of nuts, seeds, oats and dried fruits can give you a great balance of energy. Add a few dark chocolate chips to keep you digging! This is one of my favorite snacks because it's so easy to pack along, and you can find great options in the bulk foods section of the grocery store. Pre-packaged trail mixes are usually loaded with salt and sugar, so I love mixing my own.
6. Nut Butter on Crackers with Fruit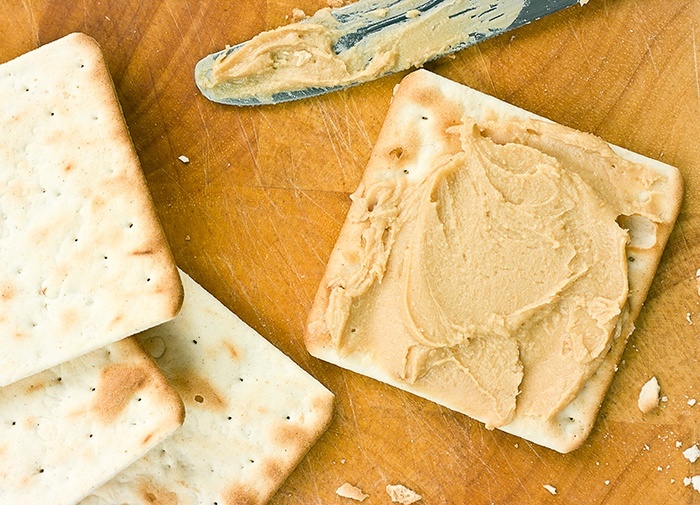 Cashew and almond butters are rich and creamy, yet a great source of vitamin E, iron and magnesium. Spread them on whole wheat (or gluten-free) crackers and add a few wedges of apple, pear or your favorite fruit on the side.
7. Greek Yogurt Parfait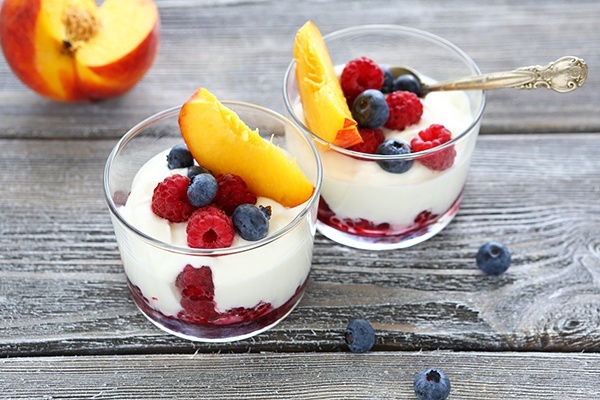 Greek yogurt has twice the protein of regular yogurt. Opt for plain yogurt and sweeten it with fresh berries or honey. Instead of sugary granola, stir in some fiber, antioxidants and omega fatty acids in the form of chia seeds, flax seeds, or chopped or ground almonds.
8. Apple, Swiss and Turkey Rolls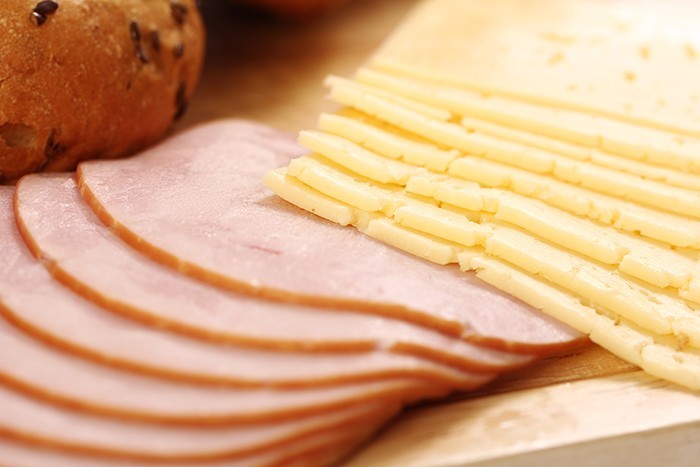 Swiss cheese is a good source of protein and calcium. Use a slice of cheese to roll up thin slices of fiber-rich apple and turkey, which is high in protein and B vitamins.
9. Hummus with Veggie Sticks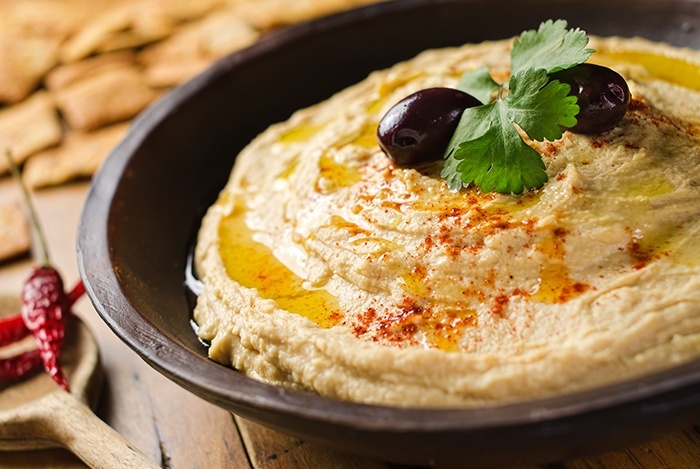 Hummus is a healthy spread made with protein-rich chickpeas, olive oil, lemon juice and garlic. It makes a delicious dip for carrot sticks, sugar snap peas, or even red, yellow and orange bell peppers – a great way to get those extra veggies for weight loss!
10. Whole Wheat Peanut Butter Sandwich
This classic snack still delivers! With 100% whole grain bread you get fiber, vitamins and antioxidants, while peanut butter adds a dollop of protein, healthy fats and vitamin E.
Do you have a healthy snack that's not on this list? Share it in the comments!