It's nearly Labor Day! How are you celebrating?
Yes you heard us right! Celebrate the Labor Day weekend and impress your friends & family with our top 3 USA-inspired snacks recipes, perfect for any weekend parties! Are you hosting any BBQs this holiday weekend? We've got you covered. Check out our favorite healthy BBQ recipes, perfect for getting your grill on!
What should I grill this Labor Day?
Healthy Herby Pesto Burgers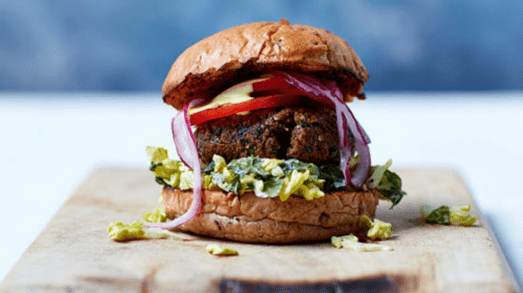 All the taste of a classic American hamburger with a pesto twist!
Serves 4.
Calories: 316 kcals (169kcals without bun)

 

Fat: 9g

 

Carbs: 37g

 

Sugars: 7g

 

Protein: 19g

 

Fibre: 8g

 
Ingredients
5% fat beef mince

 

1 tbsp coconut oil

 

1 small red onion, finely chopped

 

A handful of basil leaves, finely chopped

 

A handful of flat-leaf parsley, finely chopped

 

1 tbsp light pesto

 

1 egg, beaten

 
Let's talk toppings…
1 tbsp light mayonnaise

 

4 wholemeal seeded rolls (optional)

 

Heirloom tomato, sliced

 

1 small avocado, peeled, stoned and sliced (optional)

 

1 curly leaf lettuce, leaves washed

 
Method:
Mix the 5% fat mince with the red onion, basil, parsley, pesto and the egg together in a large bowl to bind the mixture.

Divide the mixture into 4 medium-sized balls and flatten into patties. Now it's time to put them on a plate to firm up.

Let's get that grill on! When your BBQ is ready, rub a little coconut oil over the burgers and barbeque them on each side until cooked right through.

Meanwhile, toast the wholemeal rolls (if you're having them) spread with a little mayonnaise and top with lettuce.

Place the burgers on top, add a little onion and slices of avocado.

Serve and enjoy…watch as the zingy herby burger flavours wow your guests' tastebuds! 
Grilled Halloumi with Red Peppers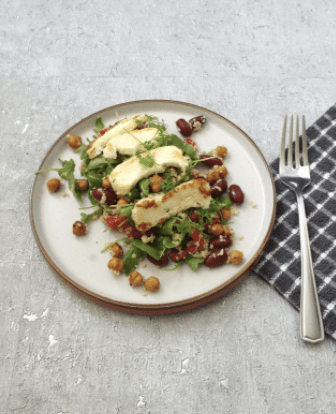 Serves 1.
279 calories

 

21g Protein  

 

16g Fat  

 

24g Carbs

 
Ingredients:
1/2 cup Halloumi (you can get low fat halloumi if you'd prefer)

 

1/4 cup Couscous 

 

1/4 cup red peppers

 

2.5 oz vegetable stock

 

1/8 cup Kidney beans

 

1/4 cup Rocket salad

 

1kcal spray 

 

Balsamic vinegar
Method:
Start by placing your couscous in a heat proof bowl, add 2.5 oz of boiling water (2 parts couscous, 3 parts stock or water). Cover and stand for 5 mins. Stir with a fork to free grains before serving.

 

Next, slice the red peppers and season with salt & pepper. Put them on the BBQ ahead of the halloumi- they'll probably take about 20 mins to char. 

 

Then, slice your halloumi about 0.5cm thick. Spray with 1kcal spray and place on the BBQ

 

In a bowl mix the couscous and peppers together.

Place the grilled halloumi on top and lightly drizzle with balsamic vinegar and it's time to get eating! 
So, what snack should I make for Labor Day?
Mini American Pancake Skewers
Snack on one of the most celebrated breakfasts in the US with our Mini American Pancake Skewers.
Ingredients:
Instructions:
All you need is to add 2 scoops of exante Buttermilk Pancake Mix to ⅓ cup of water (or milk if you want a creamier texture).

Feel free to add more liquid if your batter feels too thick, you can make it your own.

It's time to cook! Pour the batter on a preheated, lightly greased pan or griddle and flip once golden.
Once cooled, alternatively stack a pancake and chopped strawberry to the skewer to create the perfect sweet bite!