You might already know that almonds make for a delicious and crunchy snack, but they're also extremely healthy! Raw almonds, roasted almonds, almond butter, and almond milk each offer amazing health benefits.
They might seem small, but these tree nuts pack quite a punch and you can reap the many benefits that almonds offer by eating a 1 oz serving, which is equivalent to a small handful.
The Benefits of Almonds and Almond Butter
Many people think of almonds as a high protein snack, and with 6g of protein per serving, they're a great addition to your snack time. Even though they contain 6 g of protein, they should be treated more like a source of fat since they contain 14g of fat per serving.
Lucky for us, the fats contained in almonds and almond butter are the healthy variety! Eating the right amount of healthy fats can benefit your health in many areas.
Top Health Benefits of Almonds:
Maintain or Enhance Hair, Skin and Nail Health
Prevent Heart Attacks
Better control of Blood Pressure
Maintain your Joints Health
Support Brain Function
Can Help with Weight Loss (long term)
Also, thanks in part to their papery skins, almonds pack a whopping 3.5g of fiber. The balance between protein, fats, and fiber makes almonds and almond butter a well-balanced snack on their own and a great add-on to any other snack foods, like fat-free Greek yogurt or a piece of fruit. They also make a great healthy smoothie mix-in!
Of course, the health benefits of almonds don't stop there! They're also packed with lots of vitamins and minerals.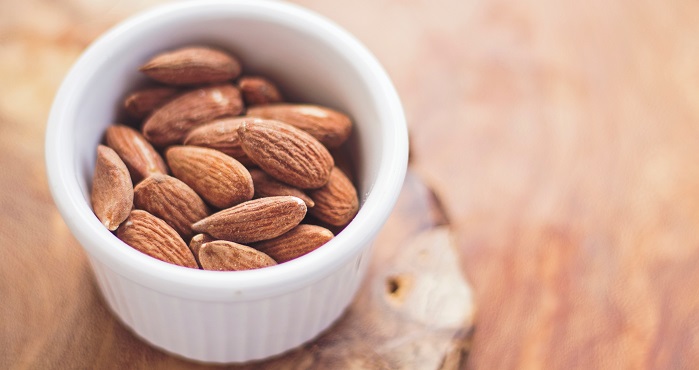 Biotin
Almonds contain 49 percent of your RDA of biotin. Biotin, also known as vitamin H or coenzyme R, is a water-soluble B vitamin. Because it's water soluble your body can't store biotin. Fortunately, there are plenty of foods that we can eat to get enough biotin, like almonds!
Biotin is thought to be a great vitamin for supporting hair, skin, and nail health and is a common ingredient in many hair, skin, and nails vitamins.
It's also important for women that are pregnant. Medical News Today recommends getting a multi-vitamin with the right amount of folic acid and biotin in order to get both of these essential vitamins in one supplement.
Biotin deficiency is rare and snacking on biotin rich almonds is a great way to make sure you get enough of this important vitamin.
Vitamin E
Not only are almonds rich in biotin they're also loaded with vitamin E; One serving contains 40% of your RDA. Vitamin E is actually the name of a group of fat-soluble antioxidants. Antioxidants are crucial to many areas of good health.
Antioxidants fight free-radicals — particles that cause damage to your body at a cellular and even genetic level. Antioxidants fight these free-radicals in order to prevent this damage and promote a healthier you!
Antioxidants are well known for fighting and preventing devastating diseases like heart disease and cancer.
Manganese
This elemental mineral is essential, but getting too much or too little can be extremely bad for your health. Which is why almonds are a good source of manganese, you get enough but not too much.
The manganese in almonds and almond butter will benefit your health in a few different areas:
bone health
joint health
metabolism
wound healing
antioxidant function
Manganese plays a double role in almonds, not only does it provide its own set of health effects, but by assisting with antioxidant function it helps the other elements in almonds do their job even better!
Almond Milk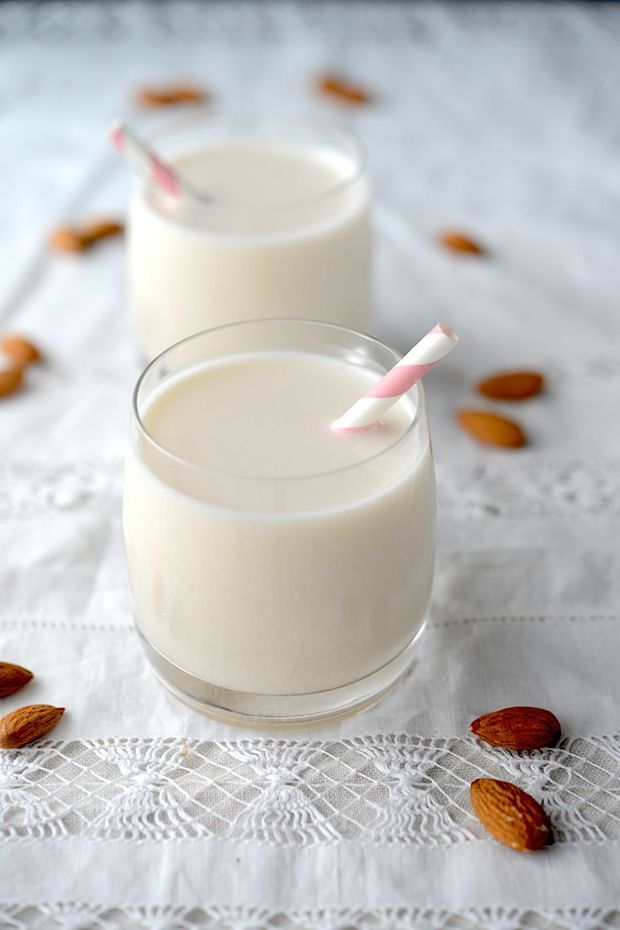 Another healthy almond-based food is almond milk. Almond milk is all the rage right now! It's become an extremely popular dairy substitute. It's great on cereal and makes a delicious smoothie base.
Unfortunately, because of the way it's been processed, almond milk does not have many of the health benefits that whole almonds or almond butter do. But that doesn't mean it has zero benefits. Almond milk is a great non-dairy alternative to milk because it's far lower in calories. So, if you're looking to cut calories and lose weight, or if you suspect your bloating might be due to dairy, give almond milk a try.
Almond Eats to Try
Even though almonds are super tasty on their own, it's time to kick things up a notch. Here are a two awesome almond recipes to try this tasty nut in a new way and receive all the benefits of almonds in a delicious way!
Almond Butter Protein Bites
Ingredients
2 tbsp. rolled oats
1 tbsp. almond butter
1/2 tbsp. ground flaxseeds
1/2 tsp. maple syrup
Directions
In a small bowl, stir together rolled oats, almond butter, ground flaxseeds, and maple syrup. Form into 2 round bites. Optional: roll in cocoa powder to coat.
Spiced Almonds

Ingredients
1 large egg white
2 tsp (10 mL) sweet paprika
2 tsp (10 mL) dark brown sugar
3/4 tsp (3 mL) salt
1/2 tsp (2 mL) Worcestershire sauce
1/4 tsp (1 mL) cayenne pepper
2 cups (500 mL) natural almonds
Cooking spray
Directions
1. Preheat the oven to 350°F (180ºC). Line a baking sheet with parchment paper. Spray with cooking spray as necessary.
2. In a large bowl, whisk together the egg white, paprika, sugar, salt, Worcestershire sauce and cayenne pepper until well combined. Add the almonds and toss until evenly coated.
3. Transfer almonds to the parchment-lined baking tray and spread out to form a single layer. Bake for 20 minutes, until the coating is crisp. Almonds will continue to crisp as they cool. Allow to cool completely then break up any nuts that are stuck together. Nuts will keep up to 5 days in an airtight container. Makes 8 servings.
Crack Down on Almonds
Almonds, almond butter, and almond milk make for a delicious snack, snack add-on, and smoothie mix-in. They add a delicious nutty flavor and contribute many amazing health benefits because they are well-balanced nutritionally giving you a good balance of fat, protein, and fiber.
The health benefits of almonds aren't just limited to being nutritionally balanced, they're also packed with vitamins and minerals that are great for anything from you hair to your brain!
To get all of these amazing benefits try adding a tablespoon of almond butter to your smoothie. When you use exante Shake as the smoothie base you get a healthy and delicious one-two punch!
Weight Loss Made Easy
Crush your goals and conquer your weight with exante's weight loss products! You'll find meal plans, recipes, and all of the exante products that you need to start losing weight.