That's why our expert nutritionist Ashley English has developed four amazing low-carb low-calorie recipes you'll love, and the best thing?  They are super quick and easy to prepare at home.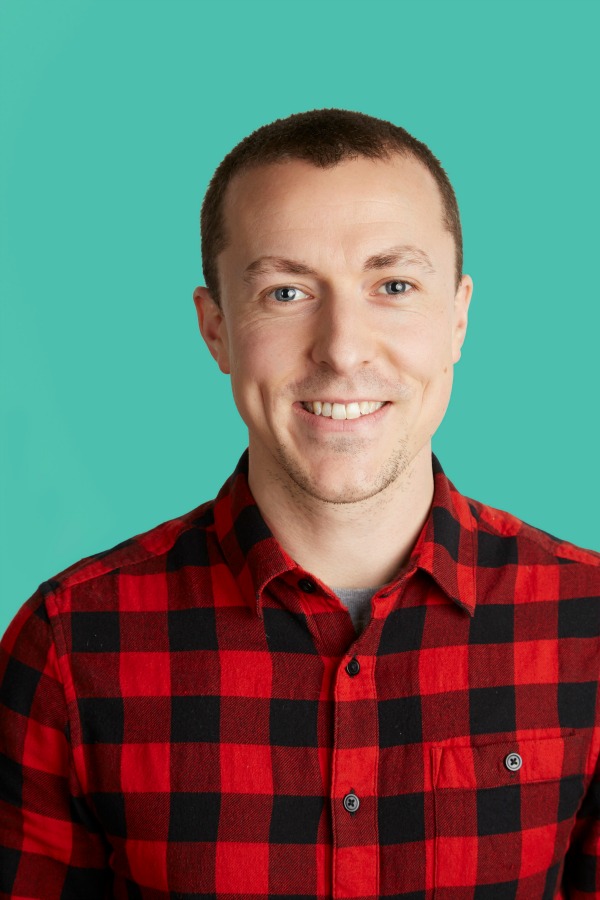 People think that eating healthily means missing out on the food you love. My simple, low-carb recipes are low-calorie versions of old favorites the whole family will love! –Resident Nutritionist Ashley English
Grilled Marinated Prawns with Stir Fried Vegetables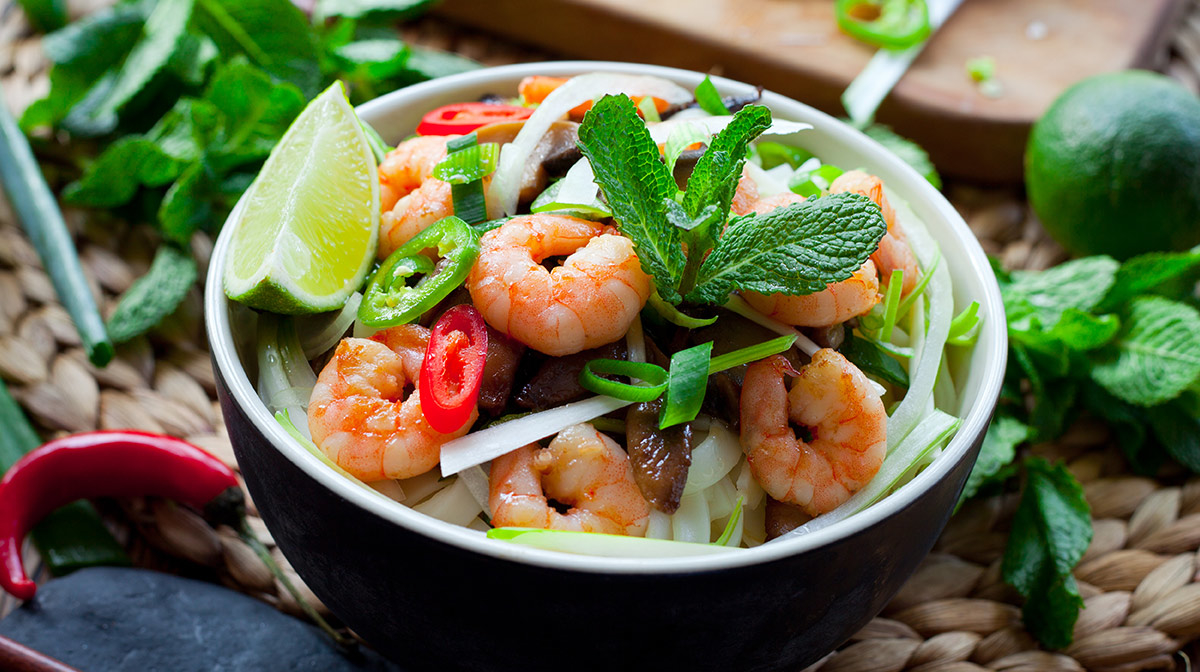 A delicious and easy dish which is also low in carbohydrates, this grilled prawns dish is ideal for fish-lovers looking for an awesome evening meal.
Non-dieters in your household will definitely become envious, so serve their portion with some boiled rice to make a delicious meal that they can eat too. Keep a pack of shelled raw prawns in your freezer to make this one, as it is bound to become a favorite!
Ingredients
200g raw shelled large / tiger prawns,
For the marinade:
1 tbsp lemon juice
Pinch chilli powder
Half teaspoon sweetener (eg, xylitol or sucralose)
2 tsp olive oil
For the stir fried vegetables:
2 tsp vegetable oil
2 spring onions, trimmed and sliced
2cm piece of ginger root, peeled and grated
2 cloves garlic, crushed
2 medium chestnut mushrooms, wiped and sliced
1 small head (about 80g) of pak choi (bok choy)
Handful (about 80g) fresh bean sprouts
1-2 tbsp water
Method
Mix together the marinade ingredients and stir in the prawns. Leave for as long as you can, but a minimum of 20 minutes.
Meanwhile prepare the vegetables for the stir fry, and preheat the grill.
Thread the marinated prawns onto skewers and place under a hot grill for 2-3 minutes, turning once until the prawns are pink and cooked through.
Heat the oil in a wok or large preferably non stick saucepan and stir fry the vegetables together over a high heat. Add the water if the vegetables begin to stick, or you can add the remaining marinade if you prefer.
Serve the vegetables on a warmed plate and top with the prawns.
Mediterranean Chicken Salad Recipe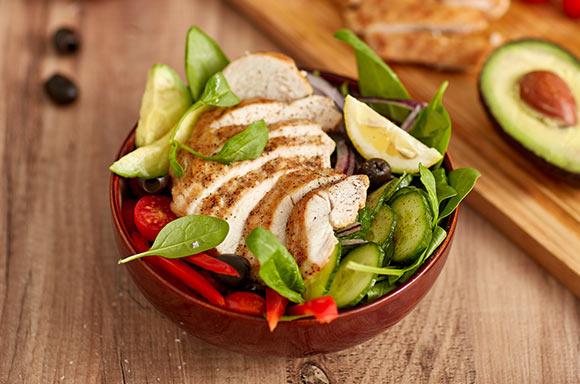 This salad has all the nutrient-rich, protein packed fuel you need to power through your day.
Ingredients
50g baby spinach
40g cherry tomatoes
30g red pepper
1 large cucumber, diced
1 red onion, sliced
1 avocado, sliced
½ cup kalamata olives (or black olives)
Lemon wedge (to serve)
500g skinless chicken breast
1 tbsp olive oil
2 tbsp chopped parsley
1 tsp dried basil
1 tsp garlic paste
1 tsp dried oregano
Salt and pepper to taste
Method
Marinate chicken breast with olive oil, parsley, basil, garlic and oregano
Grill chicken until cooked through
In a mixing bowl, add spinach, tomatoes, red pepper, cucumber, onion, sliced avocado and olives
Mix and top with cooked chicken breast
Turkey Steak with Garlic & Basil Yogurt Sauce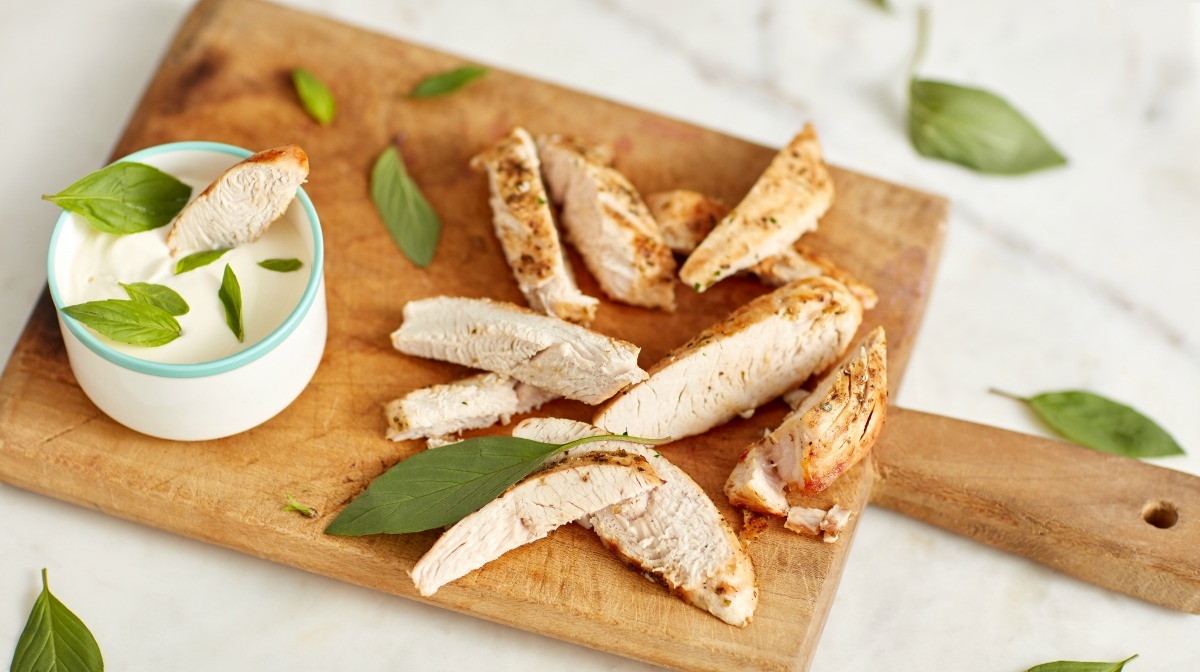 Greek yogurt is high in protein and packed with probiotics!
Ingredients
1 turkey fillet, small, skinless
1 tbsp. olive oil
1 tsp dried oregano
Salt and pepper to taste
For dip:
30g greek yoghurt
1 tsp garlic, chopped
1 tsp dried basil
Method
Pan-fry skinless turkey fillet with oregano, salt and pepper (to taste)
Prepare dip by mixing basil, garlic and yogurt
Zucchini Noodle Bolognese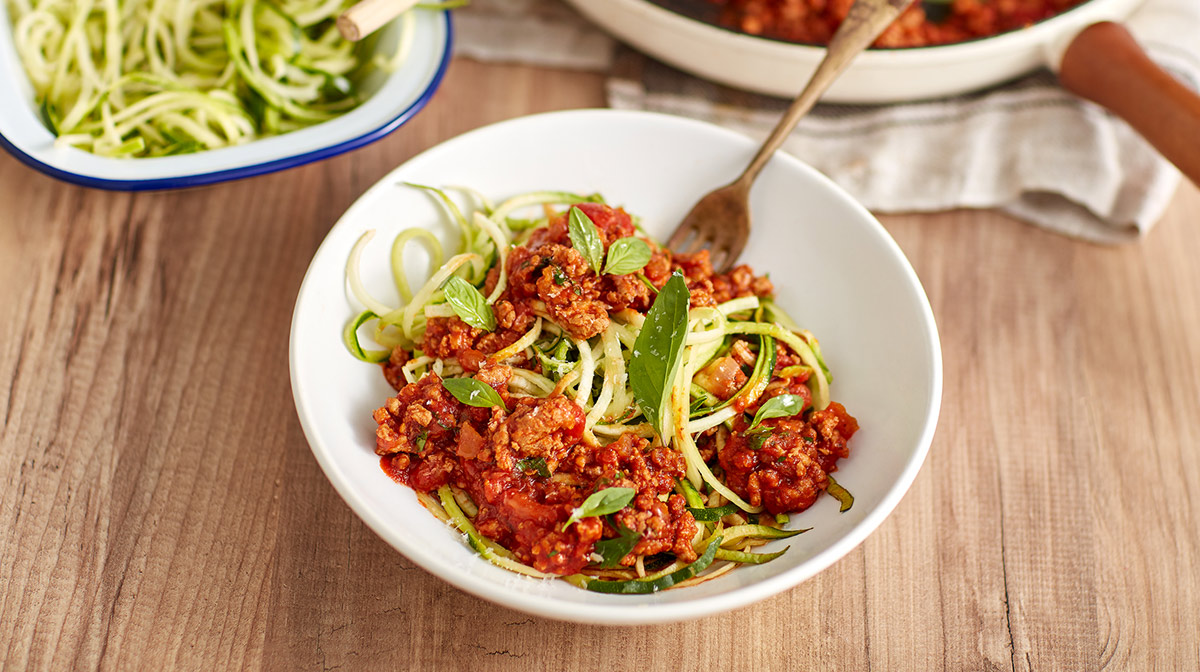 Ingredients
500g Turkey Breast Mince
1 large onion
1 garlic clove, crushed
1 tbsp tomato puree
400g tin chopped tomatoes
4 large zucchinis
Grated parmesan (optional)
Handful basil leaves
Method
Dice onion and add garlic to a frying pan on a medium heat. Lightly fry until golden brown
Add tomato puree and turkey mince
In a separate non-stick pan, dry-fry the zucchini, adding olive oil if needed
Plate up, with zucchini and bolognese on top
Garnish with parmesan (optional) and basil
When you don't have the time to cook, why not try one of our simple and convenient meal replacement shakes!